Want to reduce your waste? Well there are a lot of benefits to diving into your trash. Don't worry, we have a step-by-step guide on how to do it without getting your work clothes dirty.
Digging through waste is not something the average person would do on a regular basis. Do you ever think about where are you sending that apple core or latte cup? We've dug into a lot of garbage in past eight years, conducting waste audits for businesses and organizations large and small.
A waste audit helps you to measure the different types of waste generated at your business. The results will help you to figure out how much waste your creating, how effective your current recycling or composting programs are, and identify opportunities for reducing how much waste goes to the landfill, and potentially saving some money.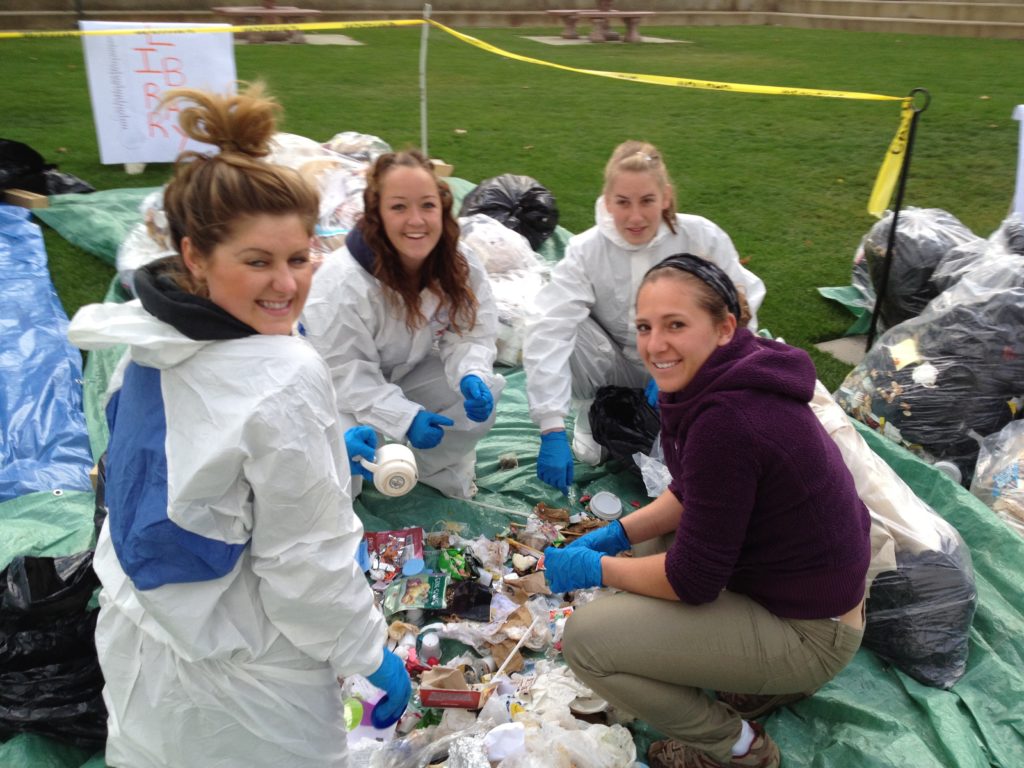 Here are a few more reasons why on earth you should dive in and sort through your organizations waste, Here you go!
The benefits of completing a waste audit
1. Increase your awareness about what your organization throws out.
Awareness is the first step to creating change. If you don't know what's in your trash, how are you going to be able to figure out if you can reduce it? Review what your hauler currently accepts in the recycling and organic waste collection and check the trash. Are there items ending up in there that could be diverted into recycling, the depot, organics collection or could be reused? Even if you aren't completing a full waste audit and weighing and measuring everything you find, you will see what is is actual trash and what is not. You will also get some insight into what you have a lot of, and come up with ideas on how to potentially be reduced.
2. You can save money.
Seriously. Reduction is key.  It is important to find alternatives to eliminating some of the things you throw away first. Then use the waste audit data to change your waste collection system. For example, after your waste audit you see that only 30% of the trash is actual trash. So if you compost and recycle, you can reduce your garbage by up to 70%. This means reducing your bin size, adjusting pick ups and avoiding fines. Sure, there may be additional costs with recycling and compost pick up, but by reducing the overall amount of waste, the savings from reducing your garbage pick ups will help to offset these costs, and sometimes still leave you with money in the bank. At the very least you will be doing the right thing for the same price.
3. You become a shade greener in the eyes of your customers and stakeholders. 
Complying with environmental regulation is considered "normal" so make sure you go a step beyond this and actually green up by making a waste reduction plan with a clear goal. Maybe after seeing the results of your waste audit, you want to reduce your overall waste by 50%. How are you going to get there? When do you want to reach that goal? Make sure everyone in your organization is clear on how you will achieve this and how they can help.
Share your successes with your staff and customers by having your current green initiatives, plans and successes on your website. Your community will appreciate this transparency and might have more ideas to help you. No one expects perfection unless you are saying you are the greenest company in the world (is there such a thing?). This transparency and engagement will earn you long time loyalty and trust, and can also boost employee retention and engagement.
Guide to complete your own waste audit
If you think it's about time your business takes advantage of these three benefits, then plan a waste audit. Download, How to Conduct a Waste Audit, a step-by-step process for conducting a waste audit at your organization. Our team has conducted dozens of waste audits from small restaurants or retailers to universities, stadiums and landfills, and this is how we do it.